by Kevyn
We all grew up on Disney and all of the princesses, Cinderella, Snow White, Ariel, etc. are one of the most influential pop culture icons in the world. However, I know like most of you, like me, have paid attention to their male counterparts –  The heroic and muscular prince.
I stumbled across these photos by  a very talented artist named David Kawena. Let me show you a piece he's done:
Yeah, you guessed it! That's your friend from Neverland, Peter Pan! David took an (homo)erotic twist to all of the male Disney princes. You name it, Hercules, Prince Eric,  and Aladdin are there to name a few. There is even photos of some of the minor characters, like David, from Lilo & Stitch.  The collection of drawings/paintings his did is called Disney Heroes, and it has received quite a number of hits.
Don't forget the hottie with the body, Hercules: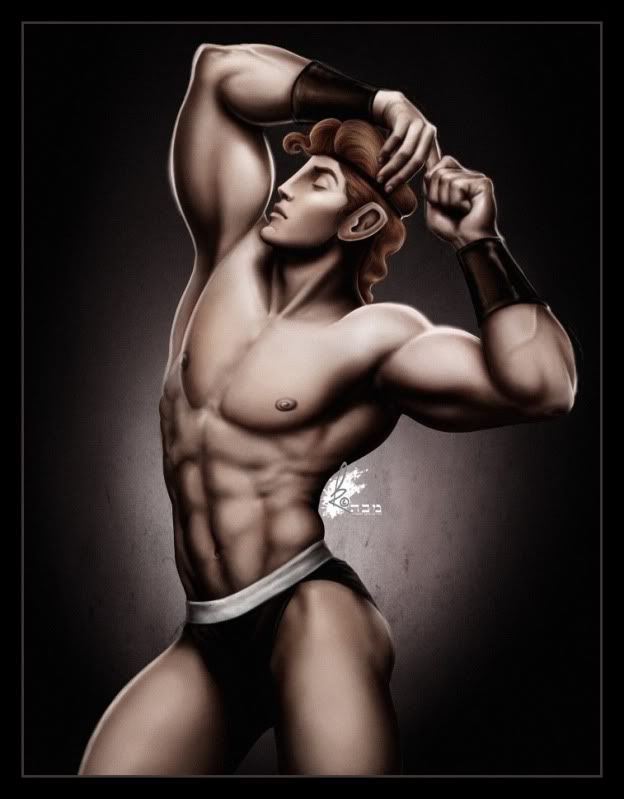 And for all you Rice Queens out there, Captain Li Shang, from Mulan:
Most of his art is about portraying the male figure at it's finest and of course, the Disney Princes are the number one fantasies of what a man should be to many little girls (and girly boys) out there.
Check out some of David Kawena's work at his Deviant Art page here and the gallery of Disney Heroes here.
He has many other of the Disney princes on there. Just wait til you see Prince Eric from The Little Mermaid…