by Tin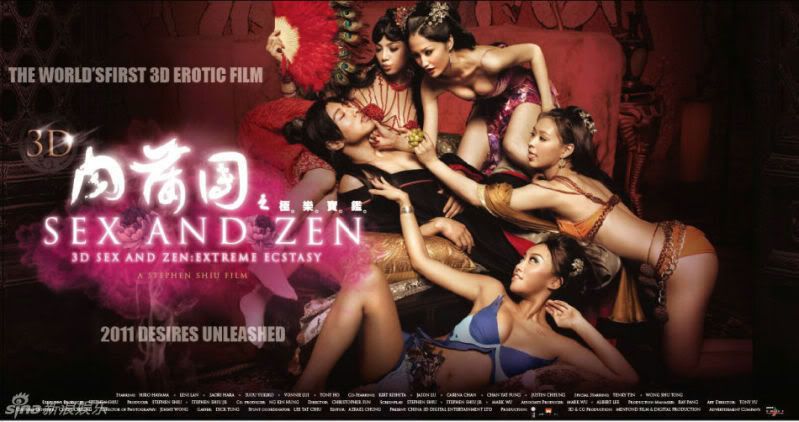 The biggest film-related news in Hong Kong last week was not the conclusion of the 2011 Hong Kong Film Awards. It was, as some of you may know, that a 3D soft-core erotic comedy, 3D Sex and Zen: Extreme Ecstasy, which took the box office by the storm. It even topped the first-day record previously set by Dances With Smurfs Avatar (see, you shouldn't have cut out that sex scene, Mr. Cameron). Hustler has made a horrible XXX parody of Avatar in 2010, if you haven't heard. Oh the irony!
Just when I wish thought that 3D technology would become a dying fad as no other films have enjoyed the same amount of success as Avatar. Film companies that jumped on the 3D bandwagon have produced a slew of flopped films like Crash Clash of the Titans that have been universally panned by critics. I don't enjoy 3D films. They give me a headache. Even the legendary Walter Murch agrees. Another misconception of mine is that with the enhanced accessibility of free porn in modern days, there is simply no more market for porno in movie theaters. Just Google "mobile porn" on your smartphones and you will know what I mean.
Alas, by combining 3D tech and porn, the filmmakers behind 3D Sex and Zen seem to have found the perfect union. Due to censorship on film content in mainland China, almost half of the revenue of the film came from mainland Chinese viewers who flocked to Hong Kong in some kind of a porno pilgrimage. Mainland Chinese travel agencies are organizing tours just for going to Hong Kong to watch this film. Actor Chapman To uploaded a hilarious sound bite on Youtube reciting, word by word, one viewer's complaint about how the 3D effect is only applied to the action sequences, i.e. bullets and knives flying at you instead of body parts or fluids. If you know Cantonese, feel free to check out the clip below.
Touted as the first 3D porn film ever made,  3D Sex and Zen surely has attracted viewers because of its novelty and all the hype that surrounds it, which to me is the epitome of the Hong Kong herd mentality. Like the famous joke about two people walking down a street and seeing a long line, one of them immediately goes to the back of the line. When the other asks what the line is for, the one in the queue replies, "I don't know. But it must be something good."
With the success of 3D Sex and Zen, we will surely be seeing a lot more 3D erotic films in Asia. But what about Hollywood? Violence always trumps sex in American movies, at least according to the MPAA ratings. You can see someone's head being chopped off but it is a big deal when you show a woman's breasts. But with the success of the recent wave of raunchy R-rated comedies, is America ready for a full-on mainstream 3D porno? We shall see. Not like they haven't already dabbled in it in the 70s.
Who's ready for Deep Throat in IMAX 3D coming to a theater near you?